We have been having parties at Christmas for the past few years and while the number of guests and the variety of dishes we make have increased, all you really need to provide for a gathering are some homemade mince pies with freshly whipped double cream, optional brandy butter and some warm festive mulled wine 🙂
These days we are spoilt for choice in the supermarkets and fine food shops as regards party food and drinks but there is something very satisfying about putting up fayre which you have made yourself.  Why not make this year the start of your own annual festive party tradition? – I promise you anyone can do this and it is the most wonderful feeling filling your house with the sound of clinking glasses and the chatter and laughter of guests.
Start small with maybe 8 – 10 neighbours or friends and I guarantee as your confidence grows over the years then so will your guest list 🙂
Here I have put together a post about making your own mince pies and mulled wine but if you are only a beginner then maybe just stick to making one or the other this year or better still, if you are a couple then share the task of one making the mulled wine with the other doing the pies!!
Mince pies are so simple and if you can master the craft of pastry making then half the battle is won!  I used to buy good quality mincemeat for mine but for the past couple of years have been making my own.  My current favourite is a Mary Berry Recipe and I have to say it's delicious.  From the first Mincemeat recipe below, you will make approx 36 pies (around 24 with Recipe 2) which will be enough to see you through your drinks party and also leave some to have over the remainder of the Christmas holidays.
Note:  If you don't need to use all of your mincemeat at Christmas then you can store it in sterilised jars (in the same way as jam) to use in January or February and it is lovely mixed with Bramley apples in apple crumble.
My recipe for mulled wine has been tried and tested many times and for me there is nothing nicer than the smell of cinnamon and clove wafting through your home. The recipe be be easily doubled or trebled and you will find that as you get used to making your own, you will adjust it to your own tastes.
♥♥ MULLED WINE ♥♥
Preparation Time:  20 minutes
Serves:  6 approx
Ingredients:
1 Bottle of Red Wine
9fl oz Orange Juice
5fl oz Water
3fl oz Brandy
4oz Brown Sugar
1 Orange, Sliced
1 Lemon, Sliced
2 Cinnamon Sticks
4 Whole Cloves
Method:
Place sugar, cloves, water and cinnamon sticks in a saucepan and bring to the boil.  Simmer gently for 10 minutes and then add wine, brandy and orange juice.
Keep warm until ready to serve.. simple!
I like to use small wine glasses with a paper napkin tied around it to serve my mulled wine but you can buy special mulled wine glasses like these ones below here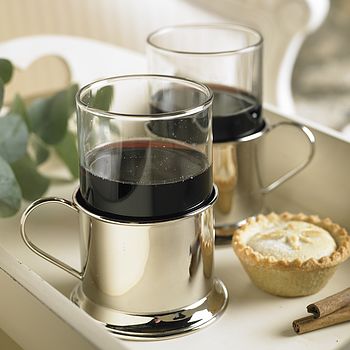 ♥♥ FESTIVE MINCE PIES ♥♥
RECIPE 1
Makes:  4 x 370g Jars
Preparation:  Can be made up to 6 months ahead
Ingredients:
175g Currants
175g Raisins
175g Sultanas
175g Dried Cranberries
100g Mixed Peel
1 Small Cooking Apple, Peeled, Cored and Finely Chopped
125g Butter, cut into cubes
50g Whole Blanched Almonds, Roughly Chopped
225g Light Brown Sugar
½ Teasp Ground Cinnamon
1 Teasp Mixed Spice
Finely Grated Rind and Juice of 1 Lemon
200ml Brandy, Rum or Sherry (I use dark rum)
Method:
Place all of the ingredients except the alcohol into a large saucepan.  Heat gently, allowing the butter to melt, then simmer very gently, stirring occasionally, for about 10 minutes
Allow the mixture to cool completely then stir in the brandy, rum or sherry
Spoon the mincemeat into sterilised jars, seal tightly with a lid, label and store or in this case, use immediately!
RECIPE 2
Makes:  2 x 454g Jars
Preparation:  Can be made up to 6 months ahead
Ingredients:
4oz Butter
4oz Eating Apple, Peeled, Cored and Finely Chopped
4oz Currants
4oz Raisins
4oz Sultanas
2oz Mixed Peel
3oz Whole Blanched Almonds, Roughly Chopped
3oz Dark Brown Sugar
½ Teasp Ground Cinnamon
¼ Teasp Nutmeg
¼ Ground Cloves
¼ Fine Salt
Finely Grated Rind of 1 Lemon
Finely Grated Rind of 1 Orange
¼ Pint Whiskey
Method:
Melt the butter in the microwave.  Place all other ingredients in a large bowl and mix thoroughly.  Add in butter and mix until combined.  Leave in your kitchen for 2 days covered with a tea towel.
If making ahead, make sure to sterilise your jars before potting
Seal and store in a cool, dark place (or your larder if you are lucky enough to have one 🙂 ) for 3 weeks before use
♥♥ SWEET SHORTCRUST PASTRY ♥♥
Ingredients:
200g Plain Flour
100g Chilled Butter, Cubed
1 Tablspn Icing Sugar
1 Medium Egg, Beaten
1 Tablspn Cold Water
Method:
Place the flour, butter and sugar in your food processor and whiz until it resembles fine breadcrumbs.
Add in the beaten egg and mix for a few seconds on the pulse setting.
Pour in the water and mix on a low speed until the pastry comes together in a ball.
Remove it and then wrap in cling film.  Place in the fridge for 30 minutes to rest.
Preheat your oven to 200ºC, 180ºC Fan, Gas Mark 6
Roll the pastry out thinly on a lightly floured surface and cut into 12 circles to fit your tin (as below).  Don't use a muffin sized tin or your pies will be too deep and for me personally, I prefer thin crumbly pastry, and not too much of it!
Place a teaspoon of your mincemeat on each and then top it off whatever way you prefer – seal it with either a smaller disc of pastry, use shaped cookie cutters and add little stars, hearts as I do or simply sprinkle over some flaked almonds or whole pecan nuts
Brush the pastry tops with some beaten egg so that your mince pies will have a nice shiny top when they come out of the oven.
Bake for 15 – 20 minutes or until golden (don't worry if a little of the pie filling overflows the pastry case – this will just show your guests that they are homemade 🙂
Remove from the oven and leave to cool on a wire rack
Once cooled  – You can either store them until needed by placing them in a plastic storage container in your freezer (making sure to put a sheet of greaseproof paper between the layers to prevent them sticking to each other) or you can just dust with icing sugar and serve
♥♥ BRANDY BUTTER ♥♥
Ingredients:
150g Icing Sugar
100g Butter, Softened
3 Tablspns Brandy
Method:
Cream together the icing sugar and butter
Beat in 1 tablespoon of boiling water and the brandy until smooth
Put in a bowl, cover and chill until needed
♥♥ THE DAY OF YOUR PARTY ♥♥
Decide where you will be having your guests and clear the room of any unnecessary furniture
If using wine glasses for your mulled wine, remember to have some napkins (I just use festive paper ones for this) to hand to wrap around the glass as the wine will be hot
Decide where you will be serving your food and dress your table.  I use my kitchen table and cover it in a simple cream table cloth.  You could place some sprigs of holly on the table and some festive tealights – or really whatever you like yourself – there are a lot of people out there far more creative than me 🙂
On the table I will place my mince pies on platters, and then have separate bowls for the cream and brandy butter with serving spoons.  You will need small plates and dessert forks for the mince pies.  Don't forget some napkins for the table also
2 Hours before your Guests Arrive – Make the Brandy Butter and whip the double cream and leave in serving bowls in your fridge until required
1 Hour before your Guests Arrive – make your mulled wine and keep warm on a very low heat on your cooker
40 minutes before your Guests Arrive – Remove the mince pies from the freezer and refresh in a moderate oven set at 180oC, Fan 160oC or Gas Mark 4 for 8 – 10 minutes (no need to defrost first).  Dust with icing sugar and place on serving platter or cake stand.  I like to have at least 2 pies per guest.
Take a few minutes before everyone arrives to make sure your have everything ready (including yourself) and don't try to do any more food etc than what you've done – parties like this are only supposed to go on for a couple of hours at most and remember that you can always plan something bigger for next year!!
Most importantly, enjoy yourself and your guests 🙂
Merry Christmas,
Bernie