Feargal and I celebrated 20 years married back in November, and to mark the occasion we went on a weekend break to our favourite place; Ludlow in Shropshire.
We made our first ever trip to Ludlow back in the Summer of 2014 and this year's visit was our fourth!  When I tell friends and family where we go for our holidays, the first questions we are usually asked is "Where is Ludlow", "What is it that you like about it?" or "Why go there?"  I say, that its a long story but I'll try to make it as short as I can … It all started back in 2011 when we watched a programme on Channel 4 called 'Rome Wasn't Built in a  Day'.  This documentary was about a group of modern day builders who went about the construction of a replica Roman Villa using the tools and techniques which the Romans would have used back in 25BC.
This villa was built in Wroxeter in Shropshire alongside the remains of a Roman City.  We have always loved anything to do with Roman Archeology and are big fans of the 'Time Team' TV Show and so decided that it would be a very interesting and worthwhile trip for the family to make before the children got too old and didn't want to travel with us.  After deciding on a visit to Wroxeter we then went about looking at towns in the area in which to base ourselves during the holiday and came across Ludlow.  So began our love affair with this town….
To us, Ludlow represents everything we love about England and the English Countryside and we are always excited about getting back there.  This year's trip was for just the two of us and our plan from the outset was that we would arrive in Ludlow, park the car up and basically spend our entire weekend around the town.  When we visit here during the Summer wi, we spend a lot of time on day trips around Shropshire and neighbouring counties but this weekend was all about taking it easy and enjoying each others company.
We take the car with us when we go to England and book the Irish Ferries Swift Service which takes us from Dublin Port to Holyhead in just 2 hours.  We love to travel by boat as it means that not only can we literally load the car boot up with clothes etc we need to cover all weathers, but last check-in is just 30 minutes before departure and there's no lengthy airport security to have to work through!  It usually costs in the region of €400 for a car plus 2 adults but we were lucky to book our trip this time during a sale and paid €307 return.
Our accommodation was The Studio in 'Streatley Mews' with http://www.cottages.com (comprised of a one room living/dining/bedroom/kitchen plus a separate wet room – small but very perfectly formed I would say and just ideal for us on this visit). It is right in the town and within walking distance to all shops and restaurants.  It also had its own private car parking space – many of the houses in Ludlow don't have this and you may end up using the public car parks.
We have also booked accommodation in the past in Ludlow through www.holidaylettings.co.uk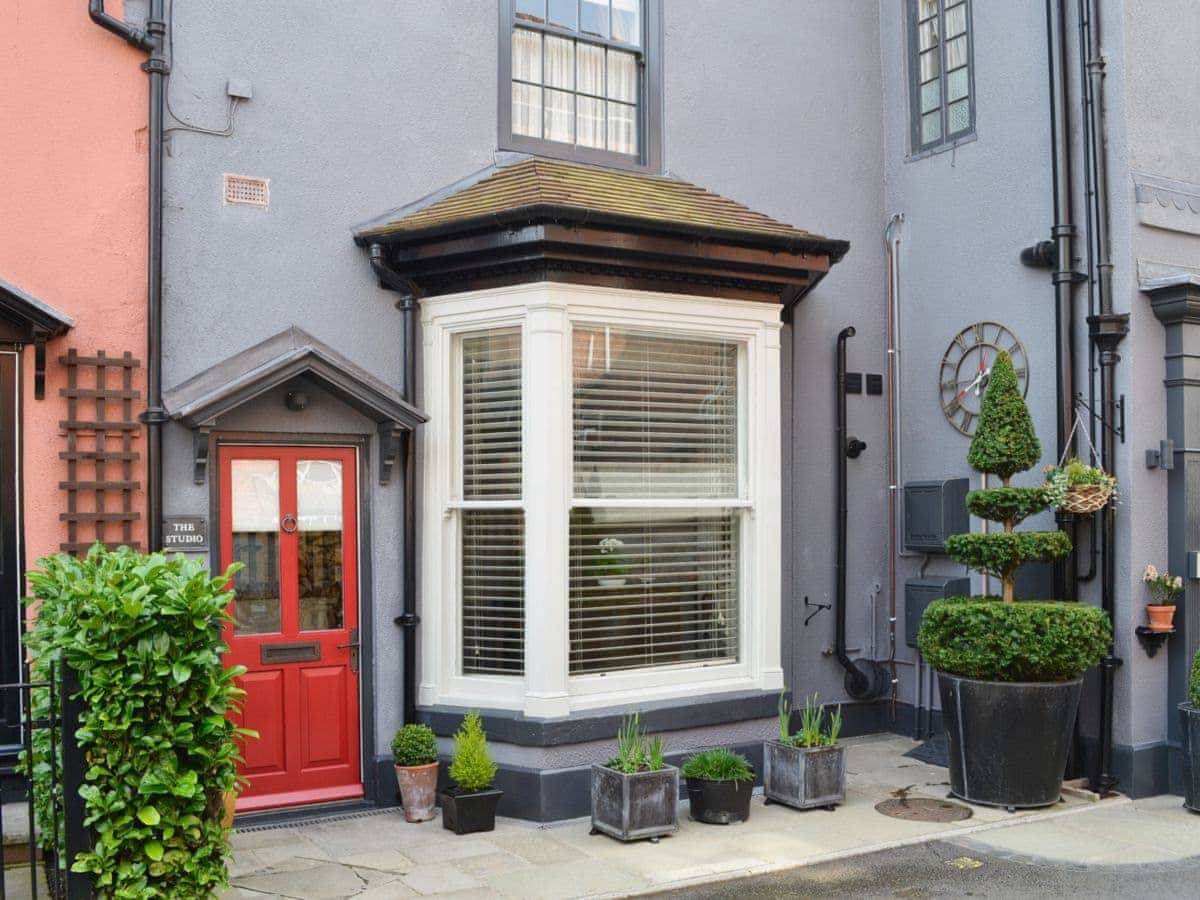 I like to know where I will be eating every evening while we are away on breaks and this trip was no exception.  Ludlow has so so many wonderful eateries and you will find something there to suit every pocket and taste.  We booked two restaurants a few weeks before travelling and I would recommend that if you are thinking of visiting the town, that you try to book in advance too – particularly for restaurants which are towards the top of the Tripadvisor List as they are usually quite difficult to get a table in if you are dropping in 'on spec'.
These are some of the restaurants we visited on this trip…
Bistro 7 (www.bistro7ofludlow.co.uk)
On previous visits to Ludlow we had tried unsuccessfully to get a table in this very popular restaurant.  I wasn't going to miss out on this trip and so emailed them well ahead of time.  I received an almost immediate confirmation and boy were we delighted with our meal.  We booked in on a Friday night and there wasn't an empty seat in the house.  Staff were so friendly and the food was fabulous.  I like to look at Tripadvisor  before we visit a restaurant where we haven't eaten before.  Bistro 7 is rated second out of 67 eateries in Ludlow so this will give you an indication of the quality of the food.  I'm not one of those people who takes pictures of their food when they are in a restaurant (I guess I'm a bit self-conscious that way) but you will have to take my word about how good the food is here and I promise, if you do visit, you won't be disappointed (have a look at the reviews on Tripadvisor and make your own mind up!)
Some Dishes which we tried and loved:
Button Mushrooms cooked in Garlic & Cream finished with Shropshire Blue Cheese served with Garlic Bread (Starter)
Fish Anti Pasti Plate. Smoked Salmon Pate, Crayfish, Home Soused Mackerel, Smoked Salmon Tomato and Basil Salad (Starter)
Fillet of Hake served with Scallops and Crayfish (Main Course)
Creme Brulee with Raspberries (Dessert)
Mortimers (www.mortimersludlow.co.uk)
We came across this restaurant on our visit to Ludlow last year and after looking at their website, decided that it would be a bit pricey for us to take the entire family here for a meal.  As it was just the two of us on this visit, we made a reservation (again, well ahead of time).  This has to have been one of the nicest meals we have had, anywhere!!  From the time you enter the restaurant, you just know you are going to enjoy your evening.  Staff again were brilliant and there were no delays between courses.  We were given a seat in a beautifully decorated ante-room with amazing panelling and furnishings.  This is definitely a fine dining experience and every course was delicious.  We opted for the dinner menu but they have a highly recommended tasting menu also (which we might try next time!)
One of my biggest disapointments when eating out is that by the time I have had my starter and main course, I have to pass up on the dessert having eaten too much but this wasn't a problem in Mortimers.  Not only did I manage to have a starter, main course and dessert but we also had the initial bread course (three varieties of delicious, freshly baked bread and flavoured butters), an amuse bouche, compliments of the chef and a pre-dessert (never knew such a thing existed) consisting of layers of carrot cake and orange jelly in a dinky little kilner jar.  I have to admit though that we didn't take up the offer of the Tea/Coffee course which came with petit fours 😦  We had a beautiful bottle of wine with the meal as well, so I guess you have to draw the line somewhere!!
Some Dishes which we tried and loved:
Scallop – Hand Dived, Ratatouille, Gazpacho
Sea Trout – Crab Bon Bon, Cucumber, Creme Fraiche
Venison – Mortimers Forest, Chicory, Sweet Potato
Chocolate – Marquise, Hazelnut Brittle, Caramel Ice Cream
Cheese – Selection of English, Grape Chutney, Biscuits
Smokehouse Deli and Cicchetti Bar
On previous visits to the town, our routine has been to get up early and have our first coffee of the day while sitting outside this lovely little deli.  Our plan this time was to try some of their food and I have got to say, it did not disappoint!  As we were on a weekend break and even though we had a full kitchen in our mews house, we had decided that we wouldn't cook and would enjoy the luxury of eating out for breakfast.
For two of the mornings in Ludlow, we had a long walk around the town (so scenic particularly around the river!) and then dropped in here for breakfast.  Seating is at a premium but each morning we managed to get a place to sit and eat.  The decor is the complete opposite of minimal but you get the idea from looking around that everything which has been hung on the walls and indeed out of the ceiling tells a story 🙂
I cannot recommend this little place highly enough and rather than prattle on about how good it is, would recommend that you not pass it if you are ever in the area!
Some 'Breakfast' Dishes which we tried and loved:
Italian Pancakes with Mascarpone and Amarena Cherries in syrup
Ludlow Smoked Kippers
Scrambled Egg on Toast with Prosciutto
I guess this post has been more of a gastronomic tour of Ludlow than a feature on the town itself.  However, we are already planning our family holiday here next Summer so I will no doubt, yet again put 'pen to paper', to fill you in some more about this wonderful little part of the world.  I keep saying "when I win the lotto this is where you will find me" 🙂
By the way if anyone has any suggestions of places to visit in Shropshire then we would love to hear from you.
Thanks for reading!!
Bernie xx