I absolutely love lemon curd but it has taken a long time for me to come up with the right recipe.  This is one which I promise once you've made it, you will use it again and again!!
I love to mix lemon curd through Greek yogurt or on my toast in the morning but you could also use it in a pavlova (you will have 2 egg whites left over from this recipe for your meringue so you're half-way there already!!) – top your pavlova case with whipped double cream through which you have mixed some of this lovely curd and then sprinkle over some fresh blueberries and crumbled chocolate flake 🙂
You could also use it in my Iced Lemon Victoria Sponge (here)…yummy!!
Note:  Lemon Curd, once made needs to be kept in your fridge and will last up to 3 weeks (it's usually eaten long before then in our house!)
Makes: 1 x 454g Jar
Ingredients:
160g Sugar
2 Tblspns Cornflour
Grated Zest from 2 Lemons
2 Eggs
2 Egg Yolks
75 ml Water
75 ml Lemon Juice
20g Unsalted Butter
Method:
In a saucepan off the heat, combine the sugar with the cornflour and zest. Add the eggs, egg yolks, water and lemon juice and mix thoroughly with a whisk. Cook over medium-high heat, stirring continuously while scraping the bottom and sides of the pan, until the mixture thickens. Remove from the heat.
Strain the curd through a fine sieve. Add the butter and stir until smooth. Cover with plastic wrap directly on the surface of the curd. Let cool and refrigerate for about 2 hours or until completely chilled. When ready to use the curd, stir with a spatula to soften it.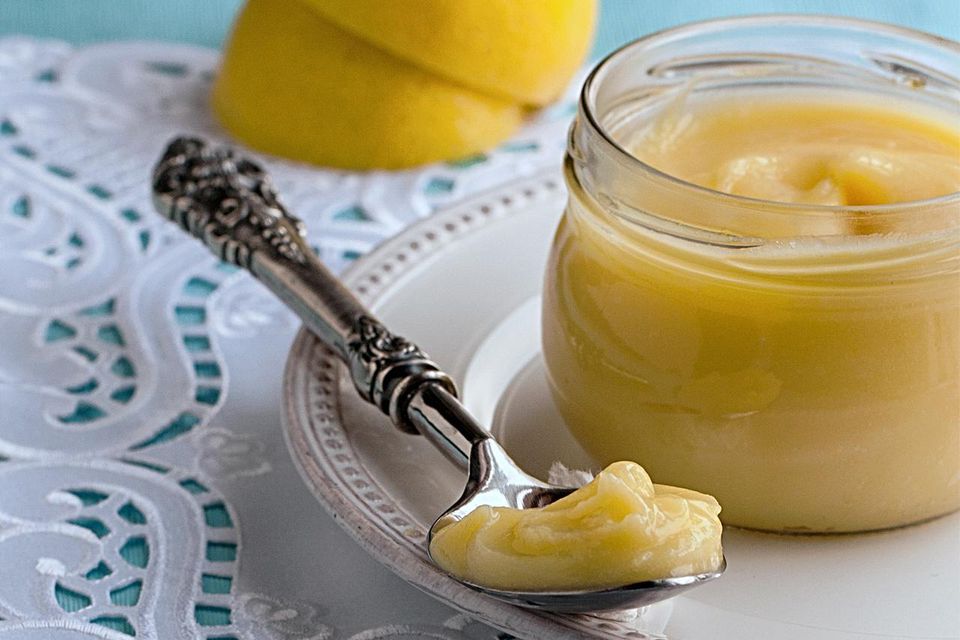 Hope you Enjoy,
Bernie